Visualize your website with a word cloud
6/1/2019
Sometimes, we just need a fresh look of our website. Maybe it's time to flash back to word clouds. A word cloud will give you a visual representation of all the text on your homepage. It makes text bigger or smaller depending on how often the text appears and presents it in a colorful format. You will quickly see your keywords.
Here is a word cloud from the IKEA home page that I just produced with Google Docs.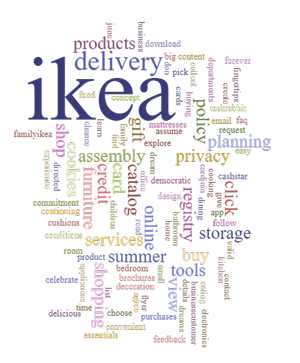 Read More.
This is a pretty good summary of the message IKEA wants to deliver.
Easy to make with Google Docs
To make a word cloud from your website, open Google Docs. Click to create a new document. In the top menu, click Add-Ons > Word Cloud Generator. Next navigate to your website homepage and copy all the contents. With a PC, use control-A to copy all. Then paste with control-V into the document space in the Google doc. Then hit "refresh" in the word cloud generator panel.
You can choose to limit the number of words in the advanced options.
Word cloud your competitors to compare keywords
Make word clouds of your competitors' websites to get a quick visualization of how their keywords compare with your company's keywords.
And, of course, just have fun.